Brick NJ Simple Assault Lawyer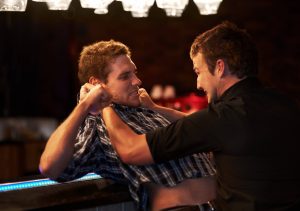 In New Jersey, the statute regarding simple assault law and its consequences is quite broad and encompasses a wide range of actions that can be deemed criminal. The acts that lead to simple assault charges include injuring another person, attempting to injure another person, and physically menacing someone in a fight. Proetta & Oliver is an Ocean County law firm that dedicates a significant portion of its practice to the exclusive defense of clients who have been charged with criminal offenses throughout the state of New Jersey. We often represent individuals charged with simple assault and other charges such as Terroristic Threats, Harassment, and Resisting Arrest as well as those served with a temporary restraining order in towns throughout Ocean County, including Barnegat, Little Egg Harbor, Stafford Township, Berkeley Township, Jackson, and Ocean Township. Since simple assault can be classified as an «act of domestic violence», it can form the basis for the issuance of a temporary restraining order as well. If that is to occur, the individual will not only be forced to defend the criminal charge in criminal court but they will also be forced to defend themselves in family court on the restraining order.
Do I need a Lawyer for a Simple Assault Charge in Jackson Municipal Court?
Simple assault is a criminal charge that, upon conviction, can result in probation, community service, and incarceration. In addition, if the incident is classified as an «act of domestic violence» then the Defendant must be detained for at least 24 hours so that Pretrial Services can conduct their interview pursuant to New Jersey's Bail Reform Act. If the facts are egregious enough, the Ocean County Prosecutor's Office has the ability to file for what is known as a Detention Hearing. During this hearing the prosecution will be seeking to convince a Judge that the Defendant must be detained in the Ocean County jail, without bail, pending trial.  As you can see, it is extremely important that you avail yourself of the representation of an experienced assault defense lawyer. At Proetta & Oliver our team of capable attorneys, has handled hundreds of simple assault charges throughout their careers. Our team of legal professionals will provide you or your loved one with the help you need to end this matter in an efficient and professional way. Contact our Point Pleasant office today at (848) 238-2100 for a free initial consultation with an experienced Ocean County simple assault defense attorney.
New Jersey Simple Assault Law
Charged with N.J.S.A. 2C:12-1 in Toms River New Jersey
Simple assault is a criminal offense in New Jersey and is governed by N.J.S.A. 2C:12-1, which provides in pertinent part that:
A person is guilty of a simple assault if he or she:
(1) Attempts to cause or purposely, knowingly or recklessly causes bodily injury to another; or
(2) Negligently causes bodily injury to another with a deadly weapon; or
(3) Attempts by physical menace to put another in fear of imminent serious bodily injury.
Facing a Simple Assault Charge at the Jersey Shore?
Pursuant to New Jersey law, simple assault is defined as a disorderly persons offense. A disorderly persons offense is equivalent to a misdemeanor, and a  conviction for a disorderly persons offense carries up to 6 months in jail and thousands of dollars in fines. As you can see, these are serious penalties that require immediate action. If simple assault occurs s a result of a fight entered into by mutual assault then the charge may be reduced to a petty disorderly persons offense. In addition to the fines and potential of jail, you can be ordered to attend counseling, perform community service and pay restitution or medical bills. It is also important to note that the «victim» of simple assault need not sustain any injury for the aggressor to be convicted under law. Rather, the mere threat of bodily injury is enough to warrant a conviction. Sometimes, if the injury is serious or if the victim is a government agent such as a police officer, simple assault will be upgraded to the indictable felony charge of Aggravated Assault. Aggravated assault is punishable by a prison sentence.
Where Do I Go to Court for a Simple Assault Charge in Ocean County?
Since simple assault are considered either a disorderly persons or petty disorderly persons offense the local municipal court in the municipality where the incident occurred has jurisdiction over the matter. So, for example if an two individuals, one from Brick and the other from Point Pleasant get into a fist fight in Toms River that results in both of them being charged with simple assault, their charges must be litigated in the Toms River Municipal Court. But if one of the individuals was also charged with an indictable (felony) offense like aggravated assault or assault with a deadly weapon then their charges must be transferred to the Ocean County Superior Court, which also happens to be located in Toms River.
Contact a Jackson NJ Simple Assault Attorney Today For Free Consultation
If you or your loved one has been charged with simple assault in Ocean County, including Point Pleasant, Lakewood, Seaside Heights, Manchester, Brick Township, then take advantage of the opportunity to contact an experienced simple assault lawyer at (848) 238-2100 for a free initial consultation. Our attorneys will work with you to build a customized case strategy based upon your needs and the particular facts of your case. Rest assured that we will keep you apprised of the process and "in the loop" for the entire time that your legal matter is in our hands. It is our paramount goal to make sure that our clients receive best-in-class legal representation.